Introducing SecureNow!
Protecting you and your personal information is our highest priority! Beginning August of 2021, our Online Banking login experience will be upgraded to include new security features. These enhanced features are designed to validate your identity and prevent unauthorized access to your account information. CLICK HERE to view our SecureNow FAQs
Watch our SecureNow video tutorial to learn more!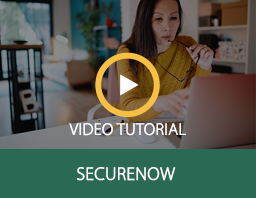 Secure Alerts
With our new SecureAlerts from Marion Center Bank, you know the moment something important happens to your account by instantly sending a message via text*, email, or to your Online Banking message center. With SecureAlerts you'll always know exactly what's happening with your money, and you can watch for suspicious activity. It's a free service for our customers.
Choose from dozens of SecureAlerts!
Monitor your account activity such as:
A purchase using your debit card was just processed. You instantly know!
An ATM withdrawal is made. You instantly know!
A check clears that exceeds the amount you set. You instantly know!
Delivered the way you want.
Messages are sent instantly using any of the delivery channels you choose:
Text Messages - One of the easiest ways to receive SecureAlerts is through text messages on your smartphone*, or wearable devices.
Email - Receive email messages about your account activity.
Online Banking Message Center - View your SecureAlerts every time you log on to Online Banking.
Set up your real time SecureAlerts:
Simply log on to Online Banking.
Select Alerts.
Click each Category in Alert Options to view the list of available alerts.
Select the Alerts you want to receive for each account. Then check how you would like to receive them, and Save.
You'll now receive a message the moment any of your alerts are triggered. It's that simple. With SecureAlerts you'll always know exactly what's happening with your money, and you can watch for suspicious activity.
We invite you to set up your SecureAlerts today!
Online Banking
Welcome to the new age of Online Banking. We've updated our system to give you the latest tools for managing your money, paying bills, researching account activity, and tracking your spending. Get started today - Click here to enroll.
Everything at a glance
Our new streamlined Accounts Overview page gives you an at-a-glance view of all your accounts and their balances, secure messages and account alert notices. With one click you have access to detailed account information for all your banking accounts including checking, savings, CDs, IRAs, loans and more!
Helping you stay on budget
Money comes in, and money goes out. Ever wonder where it all went? With our new spending reports, your transactions are automatically displayed in a categorized report and represented in a pie chart graph making it easier to reconcile your budget goals.
Full service FREE Bill Pay center
When you need to pay several bills or want to set up automatic payments, the Bill Pay Center's enhanced features make it easy. And now it's personal with Zelle®.
Access and monitor your Credit Score
Credit Sense, powered by SavvyMoney, gives our retail customers the ability to conveniently access and monitor their credit score but also receive tips to improve it and ultimately save money - all through the security of our online banking and mobile app solutions.
eStatements
Free. Secure. Less Clutter - Go green with eStatements! Our eStatements are a convenient and safe way to view your bank statements. Simply register within online banking and provide us an active email address. You will receive an email when your eStatement is available for review.
Our new Online Banking is convenient, easy, and secure with more enhanced features than ever before. If you haven't signed up, talk to one of our account representatives today, we'll be happy to assist you!
---
Additional Customer Awareness Resources, Click Here.
---