Now You Can Pay with Your Phone!
MCB now offers Digital Wallets supporting the following operating systems: Apple Pay®, Google Pay™, and Samsung Pay™.
What is a Digital Wallet?
Digital Wallets are digital versions of your debit or credit cards stored in an app on your mobile device. To protect you and your card information, the card number and personal information are not actually stored on the phone. Your card number is only used to set up your digital wallet.
A digital wallet allows users to make purchases with just their phone, instead of their physical debit or credit card. No more digging for your wallet. It's literally as easy as touching your phone to the payment terminal to make your purchase. You'll also be able to use your digital wallet for online and in-app purchases.
Watch our video to learn more!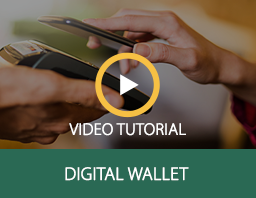 How do I use my Digital Wallet?
When it's time to check out just make sure your device is unlocked and hold it to the terminal — you don't even need to open the app. It uses a Near Field Communications (NFC) signal in the phone to transmit the data. The phone has to be almost touching the terminal for it to work. Make sure to look at the merchant's card terminal for a symbol that lets you know this type of payment is permitted.
For more information on your specific Digital Wallet, please click on the link below:
Debit Cards
Our NEW Contactless debit cards are a convenient way to access your money or make purchases anywhere MasterCard® is accepted. MCB Debit Cards are a secure and easy way to make a purchase whether it be in person, over the phone or online.
Apply for a debit card today and enjoy:
Cash back with purchases
Use anywhere MasterCard® is accepted
Can be used with as a PIN or signature based point of sale
Fraud monitoring services available
All debit cards will be automatically enrolled in Enhanced 3D Secure through MasterCard®
NEW - Shop and earn points with your debit card. Register your MCB card with uChoose Rewards and start earning points on all your purchases.
uChoose Rewards - You Shop. You Earn. You choose the rewards.
Marion Center Bank debit card holders are invited to take advantage of uChoose Rewards, a new program that lets purchases made with a MCB debit card earn points toward thousands of exciting products and gift cards.
With UChoose Rewards, you can earn points and choose to redeem them at hundreds of different national, regional, local and online retailers. If you choose to combine points for your credit card and debit card together, you'll be rewarded even faster!
Register your card
Visit uChoose Rewards to register your card. Simply click the Register link (under New to uChoose Rewards) and follow the prompts to create your User ID and Password.
Earn Points
Use your debit card at gas stations, grocery store, drugstores, malls or anywhere MasterCard is accepted. For every transaction, you'll earn:
1 point for every $2 spent when you use your card and sign for purchases
1 point for every $4 spent when you use your card on pinless and PIN transactions
Earn points faster by linking multiple MCB debit cards together!
Track and Redeem Points
Our easy-to-use rewards website lets you keep track of your points, and shows you how to redeem them for fabulous rewards! Visit the Redeem Points page on the uChoose Rewards site and click on the category that suits your interests. The site keeps track of all the points you earn and will help you find just what you're looking for when you're ready to redeem. You can even create a "Wish List" that will help you track when you've earned enough to redeem that specific item.
---
Have a Lost or Stolen ATM/Debit Card? Please report this to us immediately!
During regular business hours, please contact our Electronic Banking Department at 724-464-2265 ext. 7123, ext. 7148, ext. 7163 or ext. 7176
For after hours, please contact 866-221-8610.
Just a reminder - Please let us know if you will be doing any International traveling to help avoid any problems on your trip with your card usage.
**We have a new fraud detection provider, EnFact. If they suspect fraud on your account they will try several attempts to contact you for verification.**
For voice and email communications: 833-735-1891
For text communications: 833-735-1897
If you receive a call or text from either of the above numbers, please respond back timely!
---
Looking for another card solution? With our Reloadable, Travel, and Gift Cards we have a solution for you!
Reloadable Cards - Are you looking for a budgeting or money management tool? MC Bank partnered with Meta to provide a card solution that puts you in control.
Travel Cards - Whether you're looking for a smarter, more secure way to travel or just looking for a tool to help stash money away for your next vacation, our Travel Cards are your answer. Cards and funds are easily replaced if lost or stolen and accepted internationally.
Gift Cards - Great for any occasion and the best part is you can purchase them at the bank.
Already have a Meta Card? Check out My Prepaid Balance to manage your cards. You can download the My Prepaid Balance App either from the AppStore for iOS devices or from the Google Play Store for Android devices.
Personal Credit Cards are also available, stop in today to complete an application.
---
Additional Customer Awareness Resources, Click Here.
---
1App store is a service mark of Apple Inc. Google Play is a trademark of Google Inc. CardValet is a registered trademark of Fiserv, Inc or its affiliates. Copyright © 2017 Marion Center Bank. All rights reserved. Data charges may apply. Check with your mobile phone carrier for details. Apple and the Apple logo are trademarks of Apple Inc., registered in the US and other countries.
Reloadable and Travel cards are subject to identification verification.